There are many benefits to growing herbs on your homestead – beyond adding flavor to your food.
Many herbs serve medicinal purposes. Some reduce inflammation. Others alleviate pain and ease sore muscles.
Herbs also protect your garden and work wonders as a natural pest control. 
Given the National Library of Medicine lists approximately 100 herbs and flowers for medicinal uses alone, it is a bit overwhelming to know which herbs to begin growing.
Not to worry. We've narrowed the list down for you to 7 must-have herbs for the homestead.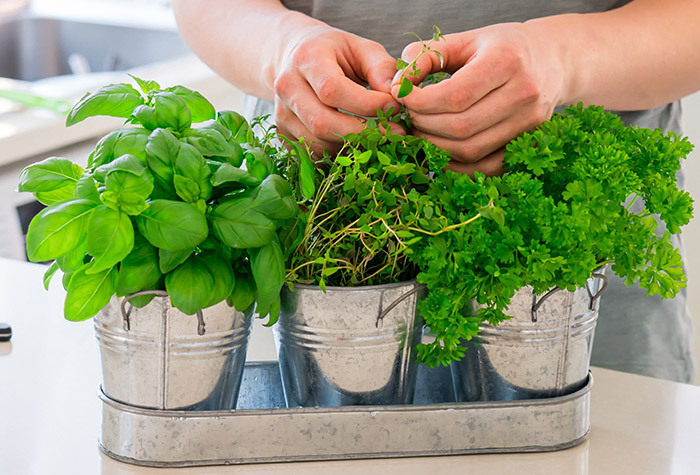 1. Basil
Basil is excellent as a seasoning in popular food dishes, such as pasta sauces, or as a pizza topping.
In addition to using basil for cooking, it has several medicinal uses.
Use it to make medicinal tea, which is good for soothing sore throats and easing congestion. 
Chew basil leaves to ease migraines.
Apply crushed basil to insect bites to relieve itching and pain. 
Plus, it repels pests like mosquitoes and flies.
2. Chamomile
Chamomile is a calming herb.
In addition to calming the spirit, it also works for calming upset stomachs and skin irritations.
According to Medical News Today, "Chamomile tea is a natural remedy for a wide range of health issues. The nutrients it contains may help manage diabetes, menstrual pain, and sleep problems, among others."
Here is a simple recipe for Chamomile Tea from Archana's Kitchen.
Ingredients
2 cups Water
3 teaspoons Dried Chamomile
Honey, to taste (optional)
Directions
To begin making Chamomile Tea Recipe, take a saucepan and start heating water on high heat.
Once the water starts boiling, switch off the heat and add the dried chamomile.
Keep it covered for a minute.
Strain the chamomile tea into the teacups.
Add honey to taste (only as a sweetener, you can completely skip it), give it a swirl and serve.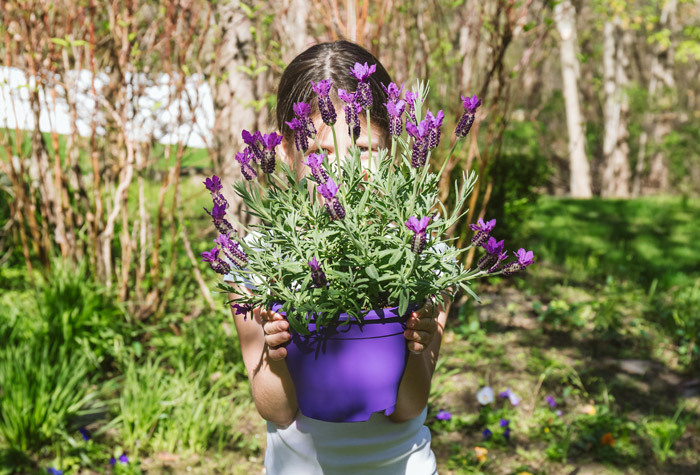 3. Lavender
Next on our must-have herbs list is lavender. It's a beautiful herb to grow in the garden as it attracts a variety of pollinators.
The scent of lavender is widely used for its ability to help people relax and is found in many sleep products.
Many homesteaders dry out bundles of lavender and use it in sachets, sleep masks, soaps, and more. 
It has uses beyond aromatherapy.
Like chamomile, add it to boiling water to make an herbal tea.
You can also use lavender to make a simple syrup for flavoring lemonades or teas. 
Plus, lavender is an effective insect repellent. Simply place lavender by your windows or near your plants to keep the insects away. 
4. Oregano
Oregano is most recognized for its uses in Italian cooking, but there are other uses. 
For instance, the strong scent of oregano is useful for breathing in to relieve nasal congestion. Simply add oregano to boiling water and inhale the steam.
Oregano can also be used for making tinctures that can be applied topically. 
[Related Read: Standard Spices for Every Homesteader's Pantry]
5. Peppermint
If you grow just one herb, consider peppermint.
Who doesn't love the fresh taste in dishes and drinks? 
You can use it to make homemade mouthwash for freshening your breath.
Here is a recipe for Three-Ingredient Mouthwash from Dental South.
Ingredients
1 cup of filtered water
1 teaspoon of baking soda
3 drops of peppermint essential oil
Instructions
Add all ingredients to a glass jar with a tight-fitting lid, and shake very well. 
This can be kept in the bathroom and does not require refrigeration. Shake well before each use.
Peppermint is also widely used for alleviating nausea and vomiting.
Plus, rodents and pests dislike the smell of peppermint, so planting it strategically will help you live rodent-free.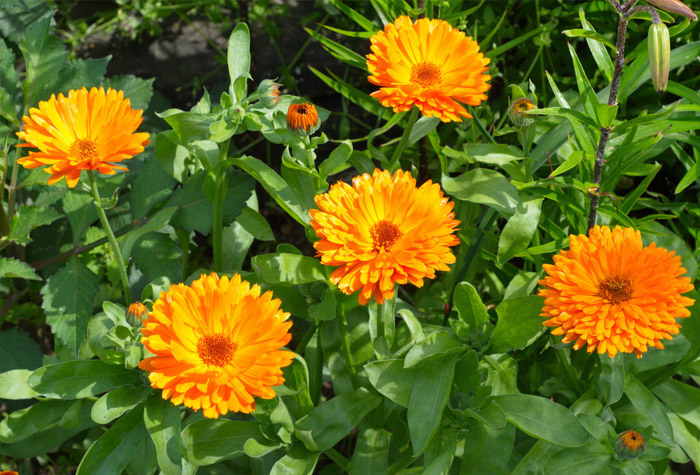 6. Calendula
A pretty and useful herb to grow in your garden in Calendula (pot marigold).
Calendula salve is useful for skin conditions, such as eczema, infections, and sunburns.
Here is a recipe for Calendula Salve from Wholehearted Eats.
Ingredients
1 Cup Calendula Oil
1 Ounce Beeswax or Carnauba wax to be vegan (grated on a box grater if it's in a large chunk) 
Optional – Lavender or Chamomile Essential oils and a few extra dried calendula blossoms.
Directions
Combine both ingredients in a double boiler. Stir over low heat until the oil is melted. If desired, add a few drops of essential oil.
Carefully pour the hot oil and wax mixture into clean and dry containers (make sure they are tempered and will not shatter or melt). I like metal tins, but you can reuse old jam jars, tea tins, etc.
Let the mixture partially set before topping it with some petals (this is purely aesthetic), or leave it plain. Once the wax is set, the salve is ready to use.
Plus, the petals can be added to salads. When eaten, it is helpful for digestion and regulating menstruation. 
7. Rosemary
Rosemary is often used when roasting meats and vegetables for its flavorful taste and amazing scent.
In addition to its flavor, it has health benefits. For example, when added to a bath, it soothes tired, achy bodies.
When added to tinctures, rosemary is helpful in healing wounds. 
It also works as an insect repellent to keep slugs, beetles, and more away.
[Related Read: 20+ Organic Pest Control Remedies]
Source link: https://survivaljack.com/2023/08/7-must-have-herbs-for-the-homestead/ by Survival Jane at survivaljack.com
(Visited 17 times, 1 visits today)
Last modified: August 17, 2023