Fire. It is one of those topics that gets talked about a lot in the outdoor community, and it happens to be one of my favorite topics.
For now we can bypass the benefits of Fire 101, i.e. boiling water, warming up, suffice to say that having fire can be crucial especially in a survival situation.
When I was kid, we would take trips to various parks and campgrounds. I remember my parents loading up the rather large and bulky outdoor stove into our vehicle. At the time it was quite convenient, but with the advent of modern materials and innovations, outdoor stoves have gotten lighter, compact, and more efficient.
I'll be frank in the fact that it took me quite a while to come around to the idea of outdoor survival stoves. I was rather old school in my thinking of them for a long time and thought they were unnecessary.
In my mind, I figured that as long as I could make fire then why did I need a stove? Like many things, with age comes clarity and I began coming around to some of the massive benefits of this piece of gear.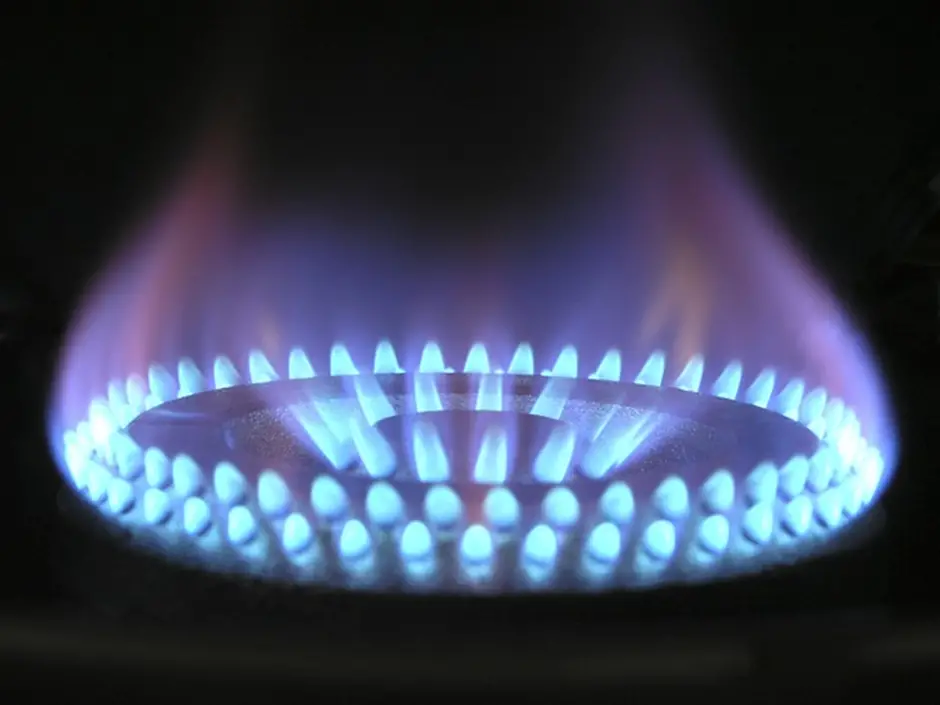 Before we get into the nitty gritty, let's review my top stove products that I recommend:
#1 Stove
Different Types of Stoves
There are all kinds of different styles of stoves to choose from like rocket stoves or traditional wood-burning stoves or portable fire pits.
One of the main and most important differences to pay attention to is the fuel source, such as a wood-burning stove, propane stove, gas stove, or another type of liquid fuel, or one that uses solid fuel tablets, or charcoal.
Below, I will briefly and in broad terms, outline three of the most popular types of fuel that can be used.
Natural Fuel Stoves
These are the most basic type of stoves in which to carry. You may also hear these referred to as biomass stoves or simply wood-burning stoves.
They are a framework, usually made from stainless steel, titanium, or aluminum, in which to burn wood, grasses, and pinecones (referred to as biomass).
These containers are not always as simple as that, but I will get into that later. For now, just know that these types of stoves require the collection of fuel from the surrounding environment.
Canister Fuel Stoves
For this category, a container of fuel is hooked up to the stove that can be turned on and off at will.
There are several different fuel sources that one needs to consider when purchasing one of these, such as a propane stove or one that uses butane. These fuels will react differently depending on the environment or altitude you are in. So, it is important to do your research and see which one will serve you best.
Solid Fuel Stoves
Solid fuel stoves can resemble natural fuel stoves but there is an important distinction. They are designed to burn premade fuel tablets. So, generally, the stove itself is a bit smaller because the heart source is smaller, which makes this option a highly portable stove.
---
Best Survival Stove: My Top 4 Picks
With all of that in mind lets take a quick look at some of the best survival stove products out there. They are not listed in any particular order.
1. Hotter fire – Solo Stove Lite Review
I have had this stove for a few years now and have really enjoyed using it. It is extremely lightweight, and I barely notice carrying it in a pack or a vehicle. The primary fuel is wood and other biomass.
The double wall design recycles already heated air and this produces a hotter, more efficient fire, with less smoke.
When I heated water over this stove, boiling time took about ten minutes. That's a little over the advertised time frame but boiling time does depend on a few things such as altitude, the type of fuel being burned, and the amount of water being heated.
In terms of smoke, and this is based on the type and amount of material being burned, I would say that there is much less smoke produced with this stove than with others I have used.
I have boiled water and cooked meals over this stove and I think it does a good job. However, if there was one thing I don't like about this stove that would be how quickly the fuel burns.
This system relies on air circulation for that hotter burn and after a bit, ash will clog the bottom. A fire can still be burned inside but it just may not get as hot. My one piece of advice would be to make sure you have a decent pile of fuel ready.
Here are pictures of my personal Solo Stove Lite: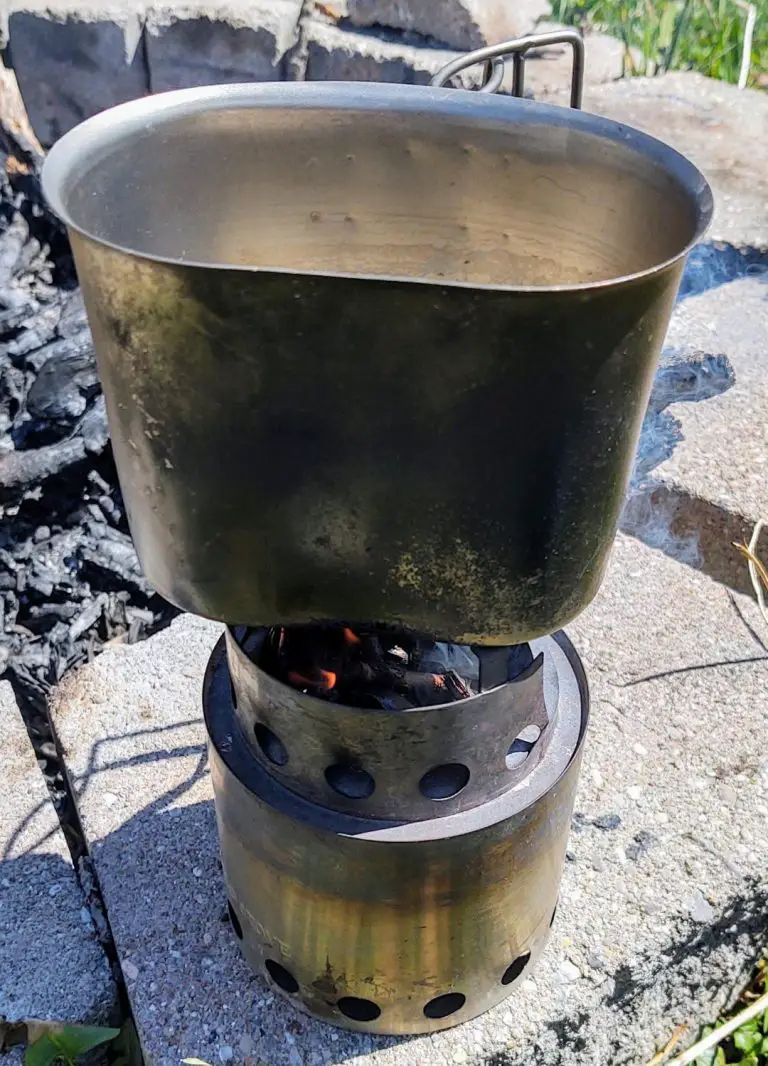 Pros
Designed as a rocket stove

9 oz
5.7 inches tall by 4.25 inches wide
Stainless steel
Removable cook top
No need to carry fuel. Burns biomass (twigs, leaves, pinecones, etc.)
Comes with a drawstring bag for transport
Cons
A bit higher in price as nature fuel stoves go
The carrying pouch is cheap
Fuel is consumed rapidly
2. Best Survival Stove Kit – Kelly Kettle Scout Ultimate Kit Review
The first thing to note about this product is that is not just a stove but a whole kit that includes a pot with lid, hobo stove, frying pan, grill, pot gripper, two cups with CooLip protectors, two plates, and two bowls. Also, the Kelly Kettle is a wood-burning stove.
All of this packs away nicely inside of the kettle but it brings the weight to 4.6 pounds, quite heavy when considering how far you may have to carry this, so it may not be the best option as a backpacking stove.
Luckily, there are many other models to choose from that differ in size, the materials it is made from, and what – if any – extras come with them. All of the additional options will lower the weight. However, the base system of just a hobo stove and smaller kettle still weighs in at 1.2 pounds.
My personal Kelly Kettle Scout: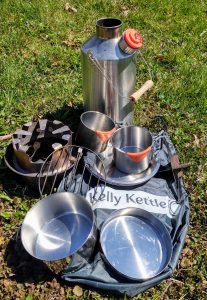 I have had the pleasure of using this model for quite some time now and I have to say that it is one of my favorite kits. If I want to just have a fire, then I break out the hobo stove. The stove is spacious and due to an opening in the sidewall, it is very easy to feed fuel in.
If I want to boil some water, the included kettle holds up to 41 oz and boils extremely fast. Plus, the cups, plates, and extras are just really nice to have. In my opinion, everything in this kit is of high quality and I like that everything is made from stainless steel.
An interesting aspect of this stove is that there are actually two ways in which to cook on. The first way is to simply cook directly over the hobo stove. Been there, done that and it works great.
The second way is by placing the kettle onto the stove, then adding a pot base onto the top of the kettle, and lastly placing the cooking pot onto the pot base. I Have used this method numerous times and it works great too.
However, I would offer one bit of caution. When using the kettle this system can be a bit top heavy so make sure that the firebase is on the flattest ground available.
Here are pictures of my personal Kelly Kettle Scout: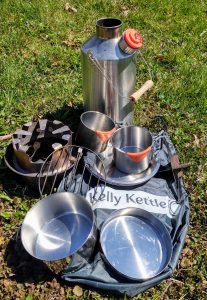 Pros
All inclusive kit
Comes with a water container
Very durable
No need to carry fuel because it burns biomass
Cons
3. Budget Friendly – Coghlans's Emergency Stove Review
This option is a highly portable stove that folds up small enough to almost fit in a pocket and it uses fuel tablets.
Unfortunately, I no longer have this stove so I can't add any personal pictures, but I have used it several times in the past. At 10.1 ounces it's on the small side but if all you are looking for is to make a cup of hot water for a freeze-dried meal or for cooking small meals, it will get the job done.
It may be a good choice for the budget-minded individual. It worked as advertised but it doesn't throw off a lot of heat, and since it's open on all sides you're going to need to set up a good wind block around it.
Pros
Incredibly affordable
Can use any solid fuel such as Sterno or other types of fuel tablets
Lightweight and compact
Cons
10.1 oz

Best used with solid fuel sources
Not very wind resistant to the elements
4. Best Survival Wood Stove – BioLite Campstove 2 Review
No products found.
I have to admit that when this stove first came out, I was intrigued. I mean a stove that can charge a battery, seems pretty cool right?
I can definitely see the usefulness of being able to charge dead devices in a survival situation. This is especially true if those devices can help to better your situation or can guide you to safety.
But after some research, I have seen some debate concerning the output of the battery and the longevity of the internal fans. Another concern I would have is how well does the tech portion hold up when banged around or if it gets wet? It's not always a quiet walk in the woods or picture-perfect conditions.
Thus far, I have used this camping stove quite a bit and I do really like it but I just haven't had the time with it yet to answer my above questions.
I did get the opportunity to use this stove during a power outage to keep my phone charged and it worked great.
Here are some pictures of the BioLite camping stove that I did a hands-on review for:
Pros
Burning biomass produces and stores electricity into an onboard battery
Can be used to charge devices via a USB port
Adjustable internal fans for a hotter fire
Cons
Check out my more detailed hands-on review of the CampStove 2.
No products found.

Can be used to charge devices via a USB port.

Adjustable internal fans for a hotter fire.

Lightweight aluminum legs fold up for nested portability and durability.

Things To Consider When Buying a Survival Stove

Sometimes people struggle with trying to figure out what type of stove they should buy. Here are some of the qualities I look for when trying to decide on a stove. Also, keep in mind the main purpose of the stove, i.e. is it a backpacking stove, or will it only be used for emergencies?

Environment

The first thing that I consider is the primary environment it will be used in. For me, I spend the majority of my time in environments where natural fuel is abundant. So, I tend to lean towards a stove that burns natural materials.

However, if I were going to be spending the majority of my time in environments where the reverse was true, i.e. desserts, high altitude, then a canister stove would be a more logical choice.

Taking this a step further is considering the time of year. I live in an area where winter brings snow and ice. Now, I need to take into consideration cold temperatures and the difficulty of finding dry fuel.

If hypothermia were an issue then starting a fire as quickly as possible is essential. This is when having two different stoves to choose from is advantageous. So, during winter time it may be a safer bet for me to swap out that wood-burning stove for a gas stove.

Weight

Anyone who has put on a pack and walked around for a time knows that every ounce in that pack makes a difference. You don't want to be hauling around a heavy, bulky stove system when you are running low on energy.

Luckily, most outdoor stoves today are quite compact and lightweight. However, there are some kits that are not.

What materials the stove and its components are made from is also something to keep in mind. Not only does this tie into the overall weight but indicates the durability of the unit and how it will hold up against the elements.

I am a fan of stainless steel. While it might be a bit heavier than other materials, it is resistant to water and holds up well to being knocked around in a pack, and doesn't need constant maintenance.

Cooking?

Another question you need to ask yourself prior to purchasing a stove, is what are you primarily going to be using it for? Are you mainly going to be heating up cups of water, hydrating food pouches, or cooking larger meals?

You are going to want to make sure that the stove is stable enough for how you are using it. Personally, I'm not too keen on the idea of cooking a meal only to have it tumble off onto the ground. Dirt doesn't make for a very good spice.

Skillset

This is something that I haven't heard talked about when it comes to stoves but I believe that it is worth mentioning. A natural fuel stove is really no different than having a campfire.

The only difference is that the fire is in a container. So, it makes sense to me that an individual using this type of stove should be skilled in several different fire-starting techniques and also have the corresponding items with them.

Some methods would include using a lighter, matches, flint, ferrocerium rod, magnifying glass, bow drill, pump drill, etc.

For example, if I only know how to start a fire with a lighter and that lighter becomes unusable, then what good is the stove? So, when choosing a stove keep your skillset in mind.

---

Natural Fuel Stove, What's The Point?

I recently had a conversation with a friend who brought up an interesting idea concerning these types of stoves. He said that some people think they are unnecessary because they are no different than having a campfire. While I agree with him in that regard, here are several reasons why I like them over a regular campfire.

They provide protection from the elements, like wind, to help start a fire and to maintain it
The fire will be easier to extinguish
I don't have to worry about smoldering embers that could reignite a fire hours later
If you have gloves or certain tools available, the fire can easily be moved. Whether this is to get it out of the rain or a means to transport it from point A to point B
The heat is directed more in one direction and I can better control the temperature
Some stoves provide a cooking or heating surface
Some come as kits, that provide extra utensils, cups, pots, pans, etc.
What I have on me in survival situations is all I have. By thinking outside of the box, I can use the design of the stove for other tasks. If I don't have a canteen maybe I can use it to collect water. Or if the exterior is shiny I could use it as a signaling device. Some stoves have wire grills or grill attachments. Maybe that grill would be better used to make fishing hooks. Be creative in how you could use your stove for other purposes, should the need arise.

---

Hands-on Stove Reviews

Our team members at SurvivalCache love to do hands-on reviews of products and give you the details. We did hands-on reviews of the following outdoor stoves:

---

Verdict

Unfortunately for this category of gear, I don't have one recommendation for the best survival stove but two.

For natural fuel stoves, I'm going to go with the Kelly Kettle. Please keep in mind though that it doesn't have to be the exact model used in this guide, which can lower the price and weight of the unit. In a survival situation, I think it is hard to beat because it comes with a water container and provides some of the best protection against the elements in order to start a fire and keep it going.

As you can see there are many things to consider when choosing something as simple as a survival stove. I hope that through this article I have helped in answering a few questions or given you a different perspective on this useful piece of gear. Thank you for taking the time to read this guide and as always, stay prepared and stay warm!

Source link: https://survivalcache.com/best-survival-stove/?utm_source=rss&utm_medium=rss&utm_campaign=best-survival-stove by Bryan Lynch at survivalcache.com

(Visited 4 times, 1 visits today)

Last modified: April 23, 2020