There are a variety of reasons you may want to grow and make your own chicken feed.
Over the past year, egg prices have skyrocketed… seemingly at the same time that many chicken owners started noticing their hens were laying fewer eggs. 
This led many to believe that feed producers may have changed their chicken feed in a way that hindered egg production.
One shared Facebook post claimed, "One of the largest egg producers in the country cut a deal with one of the largest feed producers in the country to change their feed formula, so it no longer contains enough protein and minerals for your chickens to produce eggs. […] They are now price gouging eggs to make bank."
Many others chimed in that they noticed an increase in egg production after they switched from brand-name chicken feed to making their own. This furthered the idea.
Spokespeople for Purina and Tractor Supply deny any formulation changes to their feed products.
However, it is important to note that "feed products have been recalled in the past for improper nutrition."
When you combine the cost and the concern of improper nutritional value, it is easy to see why people want to grow and make their own chicken feed.
Good news! It is possible. You can grow and make your own chicken feed at home, ensuring your chickens get what they need.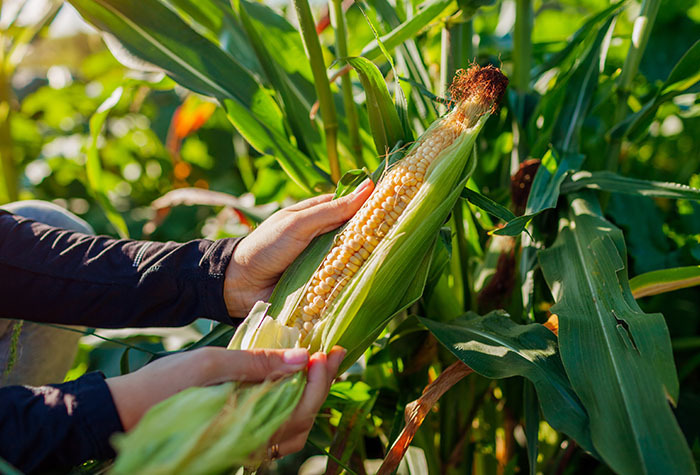 Growing a Chicken Garden
If your chickens can get much of the nutrition they need from your yard, that's even better. 
If you prioritize growing produce and grains that chickens can eat, you can easily make your own chicken feed or possibly allow chickens to free range and eat to their heart's content.
Some homesteaders create a small chicken garden instead of having chickens eat the food in their personal gardens. 
This is a fenced-in garden where the chickens can free-range and eat.
Even if you don't have space for a separate garden for your chickens, it is wise to add things to your garden for feeding chickens.
Here are some ideas of things to grow in a chicken garden:
Buckwheat
Oats
Corn
Greens, such as lettuce, spinach, bok choy, and Swiss chard
Peanut grass
Sunflowers
Amaranth
Sorghum
Fruiting shrubs
Crabapple trees
Peas
Tomatoes
Pumpkins
Squash
Zucchini
Potatoes
Parsley
Mint
Basil
Comfrey
Strawberries
Raspberries
Blueberries
Plant a cover crop, such as ryegrass or alfalfa.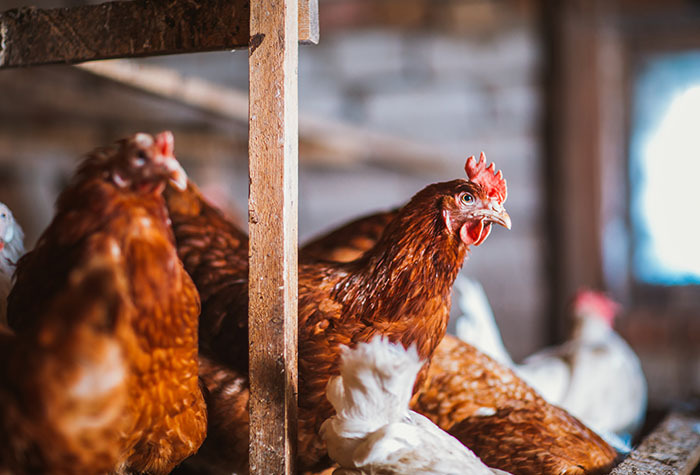 The Basics of Chicken Nutrition
Like humans, chickens have nutritional needs.
Carbs – Carbohydrates are needed to give your chickens energy, especially in the chilly winter months. 
Fat – Fats are another source of energy and are necessary for chickens.
Protein – Muscles require protein to synthesize and repair. If you raise chickens for meat, proteins are absolutely essential. 
Vitamins – Vitamins help chickens grow. 
Minerals – Minerals are necessary for helping body systems function. 
In addition to these basics, chickens also need water, grit, greens, and the occasional treat. 
[Related Read: Getting Started with Chicks]
Ideal Ratios for Chicken Feed
Mixing chicken feed requires having a basic understanding of how much of each ingredient should be included.
According to PetKeen, the following ratios are ideal:
60% grains (corn, wheat)
20% peas
10% oats
5-10% fish meal
2-5% kelp meal
Crushed eggshells for calcium 
Salt or mineral salts (depending on pasture access, not required for free-range chickens)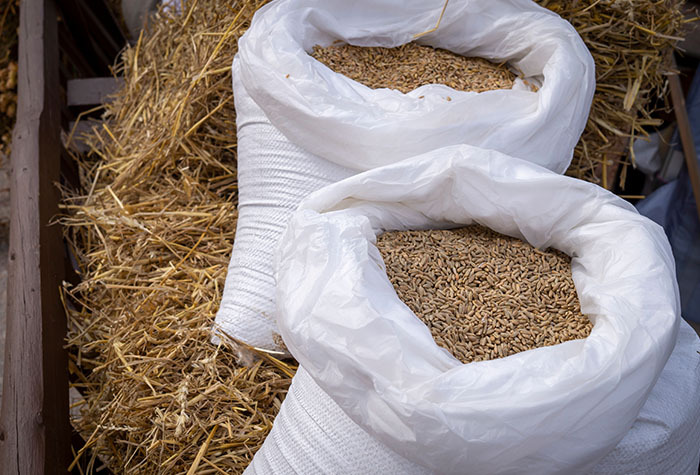 DIY Chicken Feed Recipes
As you begin the adventure of making your own chicken feed, there are some things to keep in mind.
First, it is important to consider the ages of your chickens and breeds. These will determine the precise ratios you need for each nutritional ingredient.
You may want to speak to your veterinarian to ensure your chickens are getting what is right for their size and breed. 
Second, chickens need their feed ground, so it is easier for them to eat. Grinding it also prevents chickens from just picking out their favorite parts of the feed.
Finally, you don't have to do it all yourself.
Once you decide on the ingredients of your DIY chicken feed, you can see if a local feed mill will create it and grind it for you. 
Now, let's move on to the recipes. 
Here is a Supercharged Chicken Feed Recipe from The Happy Chicken Coop.
Ingredients
8 lbs Corn
8 lbs Field peas
6 lbs Wheat
1 lb Oats or barley (Note: Oats and barley should not exceed 15% of a chicken's diet.)
1 oz Fish Meal
1 oz Salt or Mineral Salts (Note: If your chickens are confined, they may need minerals added to their feed. Free-range chickens often find what they need on their own, but to be sure, you can add minerals.)
1 oz Flaxseed
1 oz Kelp 
Crushed Eggshells or oyster shells
Directions
Mix all the ingredients.
Grind the feed into something like chicken mash.
Here is a recipe for Simple Chicken Feed for Laying Hens from PetKeen.
Ingredients
10 pounds of cracked corn
10 pounds of split peas
8 pounds wheat
1-1.5 pounds oats (do not exceed 15%)
1-1.5 ounces flaxseed
1-1.5 ounces of kelp powder
Crushed eggshells optional
1 ounce salt (not for free-range chickens)
Directions
Combine all ingredients in a large container.
Stir thoroughly and mix.
Feed to your laying hens or other chickens.
[See Also: How to Make Your Own Livestock Feed]
Source link: https://survivaljack.com/2023/08/grow-and-make-your-own-chicken-feed/ by Survival Jane at survivaljack.com
(Visited 20 times, 1 visits today)
Last modified: August 2, 2023