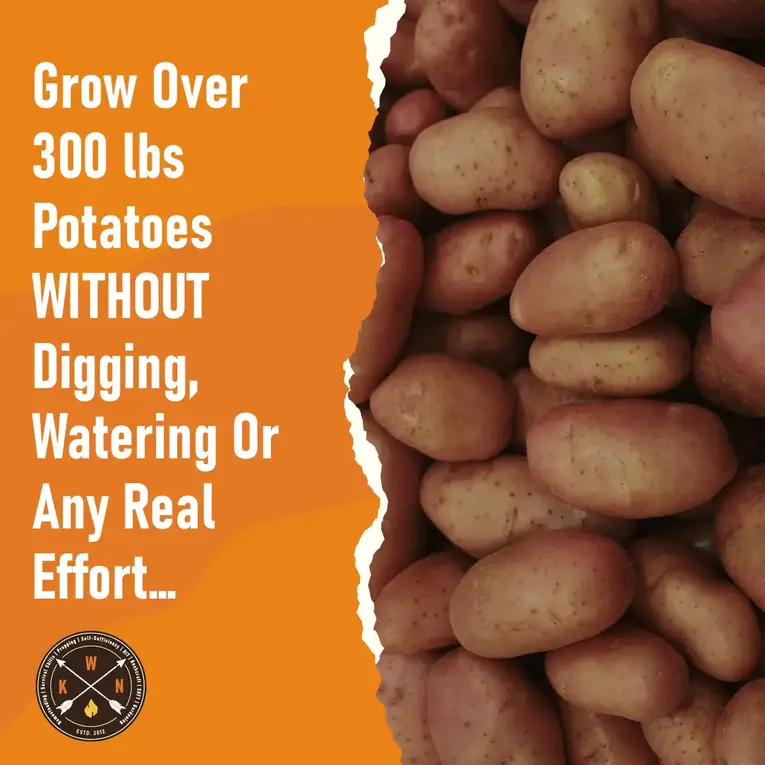 No matter whether you grow some vegetables in your back garden as a hobby or you grow vegetables on a larger-scale on your homestead, you will almost definitely grow some potatoes…
Growing potatoes in your garden on a small-scale is simple enough and fun. However, if you harbour any aims of being more self-sufficient you need to grow potatoes on a much larger scale and this can quickly become a whole load of effort and hard work. First, you must dig and prepare the soil and then plant all the seed potatoes, all of which is back-breaking work if you are planting lots of potatoes. This is only half of the work though… When the potatoes are ready, you have to then dig them all up!!!
Thankfully, there is an easier way. Much, much easier…  And the news gets even better as the good folks at Back To Reality have created an excellent video detailing how to this. I have included the video down below, so give it a watch.
They managed to grow over 300 lbs of potatoes with minimum effort. No digging/planting, no watering, and no digging/harvesting. All that is required is some hay. Tip –– you can often get hold of old or spoilt hay from local farmers for zero charges. They will likely just be happy for you to take it away. Additionally, if you ask and you are lucky, they might also be happy to provide a ready supply of manure or soiled animal bedding as well.
My recommendation – if you are not convinced by this method of growing potatoes — set aside an area to try it out this year. Grow your main crop of potatoes in the usual manner but try this no-dig, hay method on a smaller test crop. The results should speak for themselves.
BTW – after you have watched the video below, I highly recommend subscribing to Back to Reality's YouTube channel. They produce some great homesteading, gardening and DIY videos.
Source link: https://knowledgeweighsnothing.com/grow-easy-no-dig-potatoes/ by Drake at knowledgeweighsnothing.com
(Visited 1 times, 1 visits today)
Last modified: April 23, 2020