When disaster strikes there are two things that are immediately essential: getting out of the area and getting out of there quickly. Also known as a BOB, The Bug out Bag is designed to help you do just that and usually comes in the form of a heavy-duty rucksack that contains everything you need in the immediate aftermath of a disaster. So all you'll need to do is grab your bug out bag and go!
Typical bug out bags are designed and put together with a focus upon evacuation, rather than long term survival out in the wilderness and, of course, having the right bug out bag contents is pretty essential if you're to have all of the resources that you may otherwise be relying upon for your very survival following some form of disaster.
As there is a focus upon evacuation, many bug out bag guides and blog posts (and their associated Bug Out Bag Lists) tend to focus upon the equipment needed to survive over a 72 hour period.
However, quantifying any length of time when preparing for an unforeseen event is a dangerous game, after all, if it was possible to foresee a disaster, you'd be highly likely to relocate to another location entirely for as long as necessary. So, with this in mind, we've put together an ultimate Bug Out Bag List that goes that little bit beyond most other guides, and that specific plans for an undefined period of time out in the wilderness, factoring in the equipment you might need for self-sufficiency (particularly in terms of hunting renewable food sources).
With all of the above said, and with items within this list that consider a longer than 72 hour period, here's one thing to bear in mind…
If the worst does happen and you find yourself in the wilderness for whatever reason, living free from developed civilization is achievable with the right preparation. However, being off the grid for an extended period of time and setting up within wild terrain is challenging and often too harsh or dangerous for many people to consider. Instead, following a disaster seeking safe shelter within civilization is usually the primary aim, and this is the goal that any Bug Out Bag List aims to facilitate.
Why no Bug Out Bag List is ever complete
Whilst we've endeavoured to put together a comprehensive list of all the things that would be essential within a BOB, it's prudent to point out that no Bug Out Bag List could really ever be complete. Each and every person is different and may require different items within their bag; to this end, this list is very much open-ended and open to interpretation, serving as a starting point upon which to build, customize, chop and change.
Why Should I Have A Bug Out Bag?
A BOB is essential in the event that you need to evacuate quickly. It ensures that, should the worst happen, you can focus on the situation at hand rather than compiling a list of items you need to take with you. And it doesn't just serve as an essential item to have in the face of a particularly severe disaster, it can also include all the resources required when facing circumstances that are less than world ending.
And in a world of uncertainty, preparation is everything.
Bugging Out – Opting over and above Hunkering Down
This Bug out Bag List will stand you in good stead when you have nothing but your wits, knowledge and a well-packed BOB upon which to rely. That said, however, and whilst a seasoned survivalist will know the importance of always having a ready to go Bug Out Bag to hand, it's no substitute for hunkering down when appropriate. After all, BOBs are designed specifically with temporary survival in mind, whereas hunkering down can see you taking to your basement where protection is increased, with the benefits of knowing exactly where you are and with all of your home resources but a floor away.
***UPDATE — the bug out bag list below originally, for ease, included Amazon links to the products. Unfortunately, it seems that having so many Amazon links caused Google to penalise this post. As such, I have now removed all the Amazon links. Instead, below is just one link to Amazon. If you use this link and copy/paste the names of the items below into the Amazon search facility that should work.***
Bug Out Bag List
The Bag Itself!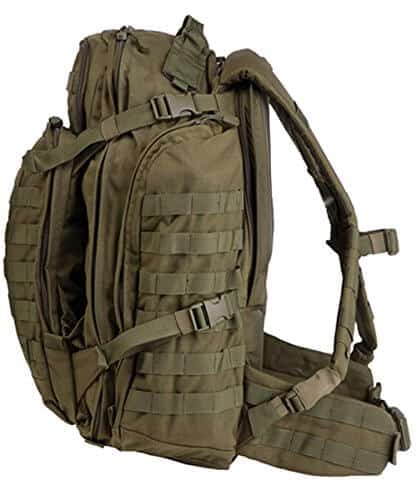 5.11 3 Day Rush Backpack
No bug out bag list would be complete without the actual bag itself! The very first item to choose is the right bag and, whilst there are many competing opinions on what may be best, it really comes down to two points:
You should choose a bag that's most suitable for you and your specialist items.
You should choose your bag only after you've put together all of your items.
Of course, it should go without saying that any bug out bag should be robust, made from hardwearing material, and constructed with plenty of pockets and compartments for splitting up your items.
Spec-Ops Brand T.H.E. Pack
5.113 Day Rush Backpack, Black
Water – Something to drink and something essential for survival
Water is essential for your very survival, without it you may perish within just 3 days (this compares to our ability to go without food for up to 3 weeks). What's more, as we become more and more dehydrated, we become more lethargic, meaning that even seeking water after two days may be an impossible task (not to mention maintaining your alertness and survival instincts).
So, as a starting point, a water (filled) container is essential for your BOB. Beyond this, you'll also need a method of boiling water (to cook and sanitise) and items for water purification (such as treatment tablets and compact water filters) for treating questionable water after your original water runs dry.
Klean Kanteen 27-Ounce Classic
Potable Aqua Water Treatment Tablets
Lifesaver Bottle 4000 Ultra Filtration Water Bottle
Nalgene Wide Mouth Cantene (48-Ounce)
Shelter – To provide protection from the elements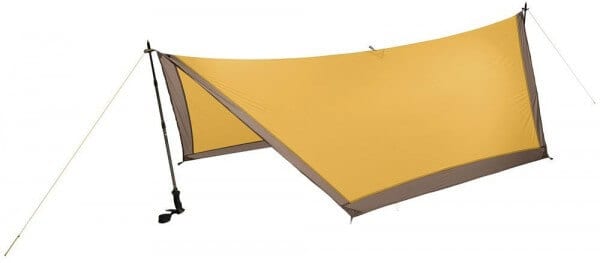 MSR E-Wing Shelter Tent
Of course, for the experienced and educated survivalist, the following items may appear disproportionate, however, shelter is not only essential to protect yourself physically from the elements but moreover becomes ever more important for the rest periods that allow for mental and physical well-being (which are both equally as essential when facing unknown circumstances in the wild). Most people would be advised to include at least a small tarp in their BOB.
Lightweight tarp
MSR E-Wing Shelter Tent
Eureka! Midori Solo – Tent (sleeps 1)
Fire – To keep you warm
Fire serves as a heat source that can warm, cook and attract attention if necessary, with the items listed here making for essential items for lighting a fire.
Most importantly, however, you should ensure that you have more than one method of ignition, with at least two and advisably even three if you have room. Personally, I have two disposable lighters, a box of matches and fire steel on my bug out bag list…
Light My Fire Original Swedish FireSteel Army 12,000 Strike Fire Starter
Ultimate Survival Technologies BlastMatch Fire Starter
Disposable Lighters
Dry tinder
Food – Something to eat
Typically, Bug Out Bag guides tend to recommend dry foodstuffs, with particular favourites being relatively non-perishable, dried foods. However, we'd also say that foods with water content are also important (as you never know just how scarce water sources will be).
To this end, you're ideally aiming for foods that are lightweight and high in calories and nutrition, as well as a good base of foodstuffs that come with water content, packing enough to last 3-4 days. Also include the more traditional items, such as rice, oatmeal, beef jerky, tinned sardines, nuts, chocolate, and high-calorie sports bars, in addition to Freeze-dried foods and MREs (meals-ready-to-eat).
Sleeping – Something to sleep in and on
For the seasoned survivalist who prepares for the very worst of eventualities, super comfortable bedding consisting of a mattress, matt, foil blanket and sleeping bag may seem over the top and the very lap of luxury. However, rest very much equates to being on form to deal with any unknown and potentially dangerous challenges.
Kelty Cosmic 0 Degree Down Sleeping Bag
Emergency Foil Blanket
Therm-a-Rest Trail Scout Mattress
Roll-up Foam Sleeping Mat
Cooking – For eating and boiling water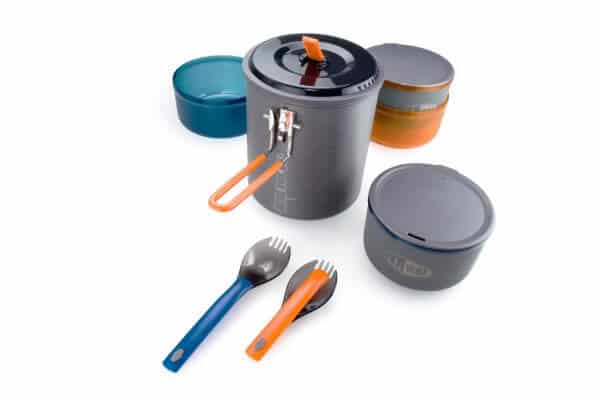 GSI Halulite Microdualist Cookset
Unbreakable cups, mini pots, and containers are each as essential as the last, and methods of cooking your food, whether caught or pre-packed, may also serve as a vital way of raising your body's temperature by what can be a lifesaving degree or two.
Esbit 11.5g (0.4 Ounce) Ultralight Folding Titanium Stove
MSR Pocket Rocket Stove (packs nicely into the GSI Halulite Microdualist below)
GSI Halulite Microdualis
Army Style Canteen and Aluminium Cup
It's probably too heavy for most people, but check out our Folding Firebox stove review, as it is pretty cool!
Light – So you can see
Another case in point, where more than one source is essential in case the primary, or even the backup, fails, is lighting. So opt for a mix of natural light sources (such as a candle) along with electric items (such as LED lights or lamps) and finally also be sure to include all-weather performing light (such as Light glow sticks) which can cover any and every eventuality.
Petzl TIKKINA Headlamp
Streamlight 88031 Protac Tactical Flashlight
Energizer Weatheready 3-LED Carabineer Rechargeable Crank Light
Tools – To get things done

Gerber 22-01629 LMF II Black Infantry Knife with 4.8-Inch Blade
Tools: Essential within the wilderness and often the difference between life and death when charged with overcoming unknown situations. They can help you cook, hunt, prepare shelter and get you out of tight fixes. As such, there are a plethora of must include tools for the ultimate Bug Out Bag.
However, tools are a hotly debated topic within the world of Bug Out Bags, where everyone has an opinion and no two experts seem to favour the same brand, let alone the same itinerary for the ultimate tool list.
The following list includes our favourites (based upon our own experience, as well as plenty of research from expert reviews). As a bare minimum, you'll want a decent knife and a multi-tool in your BOB. Experts argue over which you should pack. We say take both!
Knife: Gerber 22-01629 LMF II Black Infantry Knife with 4.8-Inch Blade
Knife: Ka-Bar Becker BK2 Campanion Fixed Blade Knife
Multitool: Gerber 22-41545 Black Diesel Multi-Plier with Sheath
Check out our post on how to make a knife from a file. The knife is a full-tang survival/bushcraft knife that could be ideal for a bug out bag
Army Style Folding Shovel: Gerber 30-000075 E-Tool Folding Spade with Serrated Blade
Pocket Chain Saw: Chainmate CM-24SSP 24-Inch Survival Pocket Chain Saw With Pouch
Lightweight Axe: SOG Specialty Knives and Tools F09-N Hand Axe
Knife Sharpener: Smith's PP1 Pocket Pal Multifunction Sharpener
Whetstone
First Aid – To patch you up
The ability to act as your own first aider is vital when you don't know when you'll have access to official medical care again. Specially designed to cater for expeditions, this compact yet extensive first aid pack features 205 pieces:
Coleman Expedition First Aid Kit
15 – Antiseptic Towelettes
5 – Antibiotic Ointments Packets
5 – Sting Relief Wipes
40 – Bandages 1×3
50 – Small Bandages
24 – Spot Bandages
5 – Fingertip Bandages
5 – Knuckle Bandages
1 – 1 1/2 x 2 1/2 Yards Adhesive Tape
10 – Gauze Pads 2″x2″
30 – Butterfly Bandages
1 – Tweezer
4 – Finger Splints
5 – 1″ safety pins
1 – Razor Blade
2 – 1 pair gloves latex-free (nitrile)
1 – Instant Cold Pack
1 – Semi-hard case
An appropriate first aid kit should be one of the first things ticked off your bug out bag list!
Communication – To get the news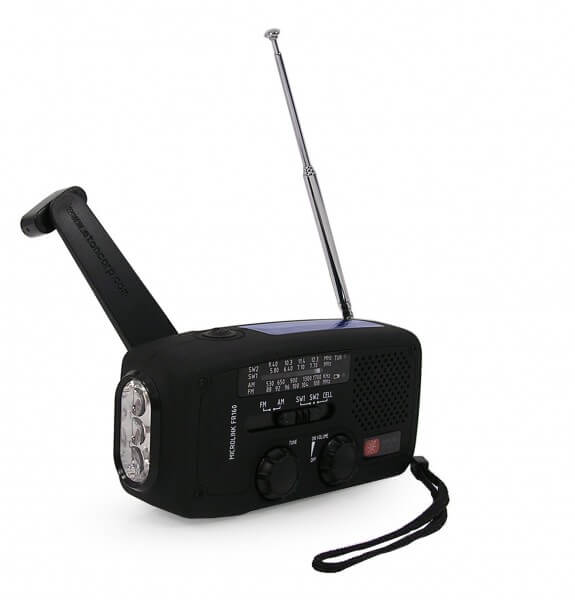 Etón FR160B Microlink Self-Powered AM/FM/NOAA Weather Radio with Flashlight, Solar Power and Cell Phone Charger
Ensuring that you can stay in the loop, even when you may be decidedly away from civilization and all its creature comforts, is vital for knowing what's happening and where potential help may be sought (as well as being aware of impending danger). Once more, this is another item where a backup comes in handy, and you should also consider a self-powered form of communication to avoid a situation where battery power runs out.
In addition to your radio, you'll also need a method of communicating from afar and attracting the attention of others, for which a signalling mirror is essential.
Etón FRX3 Microlink Self-Powered AM/FM/NOAA Weather Radio with Flashlight, Solar Power and Cell Phone Charger
Small Pocket AM/FM Radio
Signalling mirror
Clothing – You're the most basic form of shelter
As the most basic form of shelter, your clothing serves as your first protection from the elements, with your footwear literally being the difference between travelling with a firm footing, and potentially slipping, tripping or being unable to scour certain terrains.
Clothing is, however, incredibly personalised and a Bug Out Bag itinerary for clothing items will differ drastically from person to person, taking into account varying body types, tolerances levels, fitness levels and preferences. As a generic starting consideration, however, you must take into account your climate, location and surrounding terrains, being sure to evaluate your clothing contents every six months as the seasons change.
Spare pair of socks/underwear.
Waterproof jacket, trousers and gloves.
Also, make sure you are wearing good quality appropriate boots and clothing, to begin with, if possible.
Hunting/Fishing – Sourcing renewable food
As mentioned at the start of this guide, whilst the focus of the average Bug Out Bag is upon survival in the immediate 72-hour window of a disaster aftermath, it's prudent to pack for as many situations as possible.
With this in mind, including the following items within your Bug out Bag can help you to seek your own food from the wilderness (in addition to making considered choices for your weaponry, which can allow you to hunt successfully on land).
Daiwa Mini System Minispin Ultralight Spinning Reel and Rod Combo in Hard Carry Case
Gillnet (for fishing)
Snare wire, although you can make a snare with the inner strands of 550 paracord.
Barnett Black Widow Slingshot
In addition to basic survival knowledge, without the aid of tools (such as naturally being able to figure north from south, telling the time and seeking out water sources) you should also pack for navigating the terrains that you find yourself in, safely and successfully. However, this really needn't be any more extensive than a couple of well-chosen maps and a compass.
Local Maps and Trail maps. Try to ensure these are the water-resistant laminated ones.
Silva Polaris 2801100 – Compass
Binoculars – See them before they see you
Seeking out food, water or shelter sources, and the ability to see potential dangers, are all made easy from afar and from a safe area with the right Binoculars. Here are some suggested brands, with each providing for 8x magnification within the compact and robust casing, but with the former taking up the traditional duel view and with the latter being a mono view.
Bushnell H2O Waterproof/Fogproof Compact Roof Prism Binocular, 8 x 25-mm
Alpen BAK4 LE Rubber Covered Monocular
Firearms – To keep you safe and to potentially hunt with
Everyone has an opinion on what is best and if, indeed a firearm is necessary. We'll let you make your own mind up. If you do decide to pack a firearm, it is vital that you learn how to actually use your firearm of choice. Get some professional tuition, and of course, only pack include a firearm in your Bug Out Bag if is legal and you meet all the restrictions and regulations in your state.
Books – So that you know what you are doing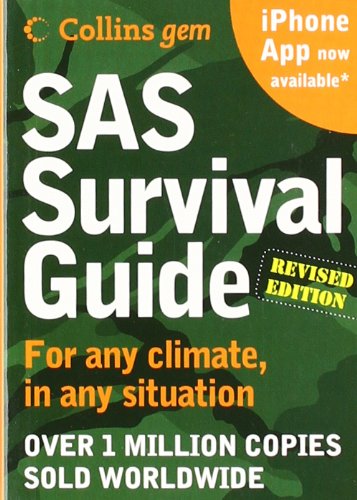 SAS Survival Guide 2E (Collins Gem): Perfect size for a bug out bag!
A good survivalist knows that, no matter how much they know, no matter how many blogs, guides and books that they read, they can never know enough.
With this in mind, here are two books that provide a high-level overview of surviving upon nothing but your own wits and a well-packed Bug out Bag.
You will not regret taking one of these books with you. They provide invaluable information and advice, even for the seasoned survivalist…
US Army Survival Manual: FM 21-76
SAS Survival Guide 2E (Collins Gem): For any climate, for any situation — personally, this tiny book is one of the first things on my bug out bag list.
The Other (but no less important stuff) – Doesn't fit into any of the categories above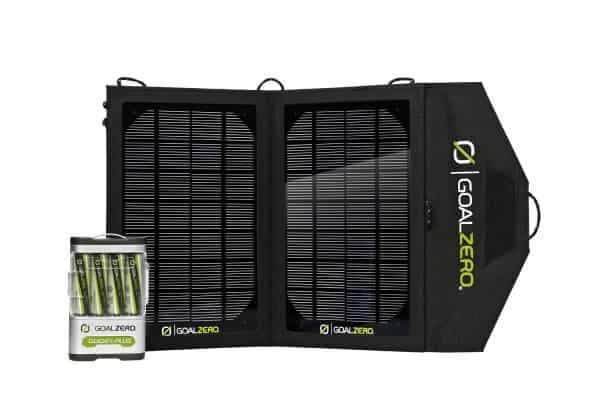 Goal Zero 19010 Guide 10 Plus Small Adventure Kit
To finish off our Bug out Bag List, here are the items that make for equipment that doesn't quite fit under any of the other titles (although they're in many cases no less important… so certainly don't overlook them!)
Sewing kit, duct tape, head net, 50 feet of 550 paracord, whistle, sunglasses
A small bottle of hand sanitiser
Some zip-ties
Maxi Pads – they can be used for wound dressing and the inner material can be used for tinder
Repel 100 Insect Repellent
Goal Zero 19010 Guide 10 Plus Small Adventure Kit
Bug Out Bag List Conclusion
Whilst there are several items that should be on everyone's bug out bag list, BOBs are personal and some of their contents will be individual to the owner, their requirements and their local environments. This bug out bag list doesn't list every single item that you might need to survive, nor do you need to have all the items included on the BOB list either.
The aims of this bug out bag list were to get people to stop and consider what they should include in their own BOB (if they don't already have one), or whether they should consider different/additional items and perhaps update the contents of their bags.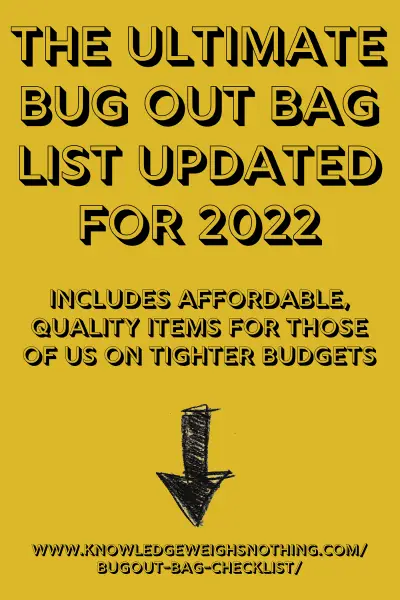 Source link: https://knowledgeweighsnothing.com/bugout-bag-checklist/ by Drake at knowledgeweighsnothing.com
(Visited 2 times, 1 visits today)
Last modified: October 27, 2018